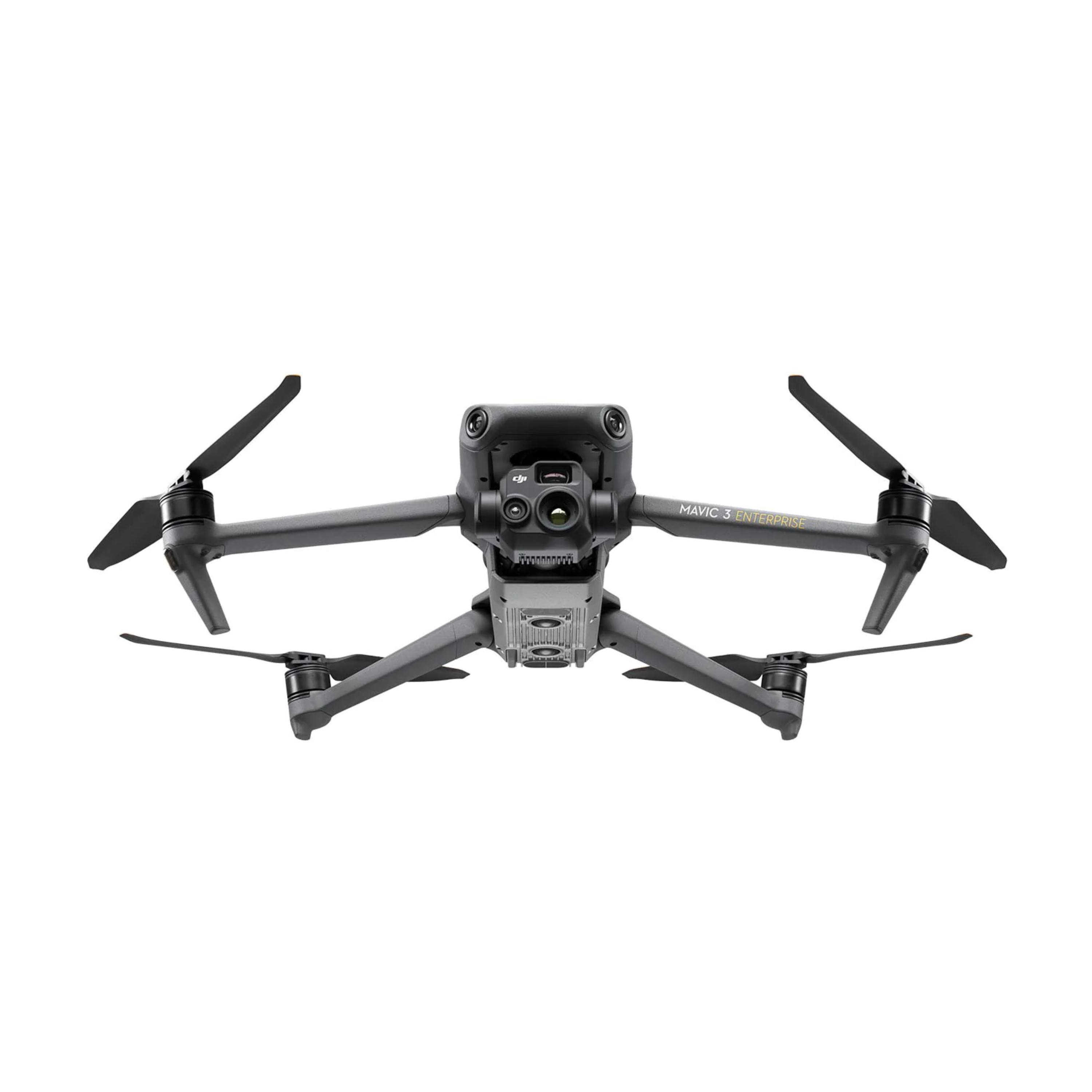 DJI Mavic 3 enterprise (M3E) (IN STOCK)
---
Contact for pricing

 

 In The Box:

1x Mavic 3E Aircraft
1x Mavic 3 Intelligent Flight Battery
1x DJI RC Pro Enterprise
3x Mavic 2 Enterprise Series Propeller (Pair)
1x Gimbal Protector
1x 64GB MicroSD Card
1x 100W USB-C Power Adapter
1x AC Cable
1x USB C to USB C Cable
1x USB C to USB-A Cable
1x Protector Case
1x Screwdriver
DJI Care Enterprise Basic 1 year

 Product Highlights:

Compact and Portable
45-min Max Flight Time
4/3 CMOS Wide Camera
56× Hybrid Zoom
640×512 Resolution Thermal Imaging
DJI O3 Enterprise Transmission
Optional centimeter-level Positioning with RTK
Loudspeaker

The Mavic 3 Enterprise Series raises the bar for small commercial drones. The Mavic 3E takes mapping and mission efficiency to new heights with a mechanical shutter, a 56 zoom camera, and an RTK module for centimeter-level precision. For firefighting, search and rescue, inspection, and night operations, a thermal version is available.

Thanks to a compact, streamlined design, the Mavic 3 Enterprise series can be deployed instantly and is designed for pilots of all skill levels. 

Camera

The Mavic 3E Wide camera has large 3.3m pixels that, when combined with the intelligent low-light mode, provide significantly improved performance in low-light conditions.

The wide-angle 4/3 CMOS, 20MP sensor on the Mavic 3E has a mechanical shutter to prevent motion blur and supports 0.7-second interval shooting. Complete mapping missions with a high level of efficiency without the use of Ground Control Points.

Both the Mavic 3E and Mavic 3T have a 12MP Zoom Camera with up to 56 Max Hybrid Zoom to see important details from a distance.

Flight Time and Range

Thanks to the O3 Enterprise transmission system with a quad antenna setup, the Mavic 3 Enterprise series can maintain a stable connection in many different scenarios. Depending on the area, the O3 Enterprise transmission system is capable of up to a maximum of 15km of transmission distance.

With high efficiency propulsion systems and up to 100w fast charging support, the Mavic 3 Enterprise series can stay in the air for longer with continuous, all day operation possible with just 4 Intelligent flight batteries. Each battery can last for up to 45 minutes of flight time.

Omnidirectional Obstacle Avoidance

The Mavic 3 Enterprise series is equipped with a comprehensive obstacle avoidance system. Equipped with wide-angle lenses on all sides for omnidirectional obstacle avoidance with zero blind spots. Pilots can adjust proximity alarms and braking distance depending on mission requirements.

APAS 5.0 allows for automatic route optimization around obstacles, allowing you to fly with confidence.

Centimeter Level Accuracy

The Mavic 3 Enterprise series has RTK support, which means you can achieve centimeter-level accuracy thanks to the optional RTK Module and support for network RTK as well as the D-RTK 2 Mobile Station. This when combined with the mechanical shutter provides DJI TimeSync support which streamlines photogrammetry workflows by improving accuracy.

DJI Pilot 2

A redesigned Enterprise flight interface that aims to boost pilot efficiency and flight safety. Drone and payload controls are easily accessible with a single tap. Together with support for various route types, clear presentation of flight details and navigational information improves user experience. The DJI Pilot 2 app also provides mission planning features to carry out various types of photogrammetry and mapping flights as well.

Loudspeaker Accessory

Similar to the Mavic 2 Enterprise series, the Mavic 3 Enterprise also supports a loudspeaker attachment which is redesigned for this new generation. It allows pilots to broadcast messages to assist with SAR applications. The loudspeaker supports the recording of messages as well as a text-to-speech feature.