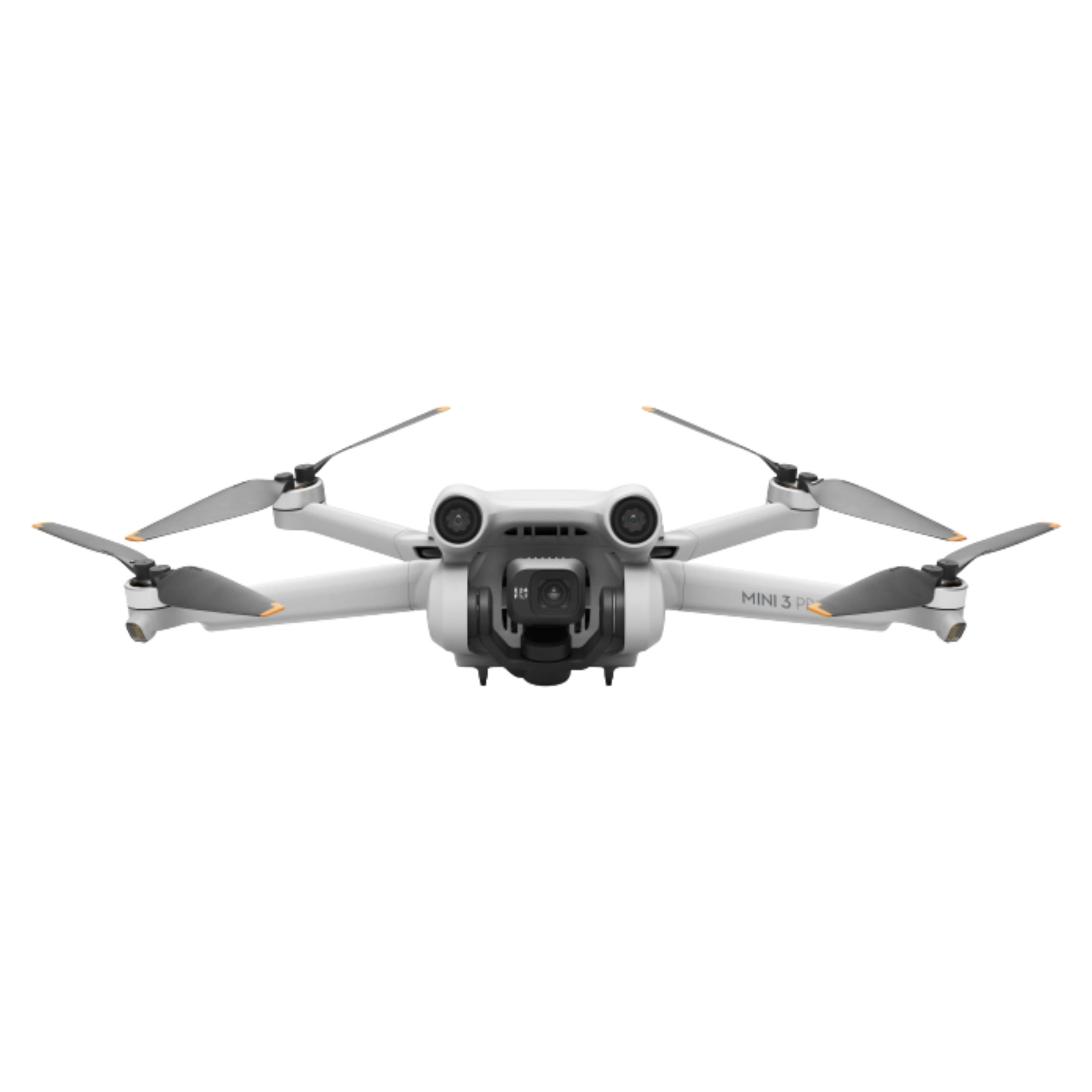 DJI Mini 3 Pro
---
*Package contents vary based on combo selection

The DJI Mini 3 Pro is a small, powerful, and portable drone with a lot of features. It is not only compliant with regulations but also the safest in its class, weighing less than 249g and featuring upgraded safety features. With a 1/1.3-inch sensor and top-tier features, it redefines what it means to fly Mini.

The Mini 3 Pro features a brand-new design that is tailored to maximize every flight. Larger propellers, an aerodynamic body tilt, and a powerful obstacle-sensing system contribute to the streamlined design's increased flight time and safety. The gimbal has been redesigned with a larger tilt range for low-angle shots and True Vertical Shooting, allowing for endless creative possibilities.

COMPACT, FOLDABLE DESIGN
For creators out and about, ease of use is essential. Most countries and regions do not require registration for the Mini 3 Pro because it weighs less than 249 g. It is really simple to carry on your next hiking trip, beach day, or last-minute weekend getaway thanks to its foldable and compact design. When inspiration strikes, be ready to capture breathtaking footage.

CAMERA AND IMAGE QUALITY
In a variety of lighting conditions, the DJI Mini 3 Pro performs impressively, making sure that you are always ready to create. HDR footage can be directly output from the 1/1.3-inch CMOS sensor, which has dual native ISO. Each image has a higher dynamic range to reveal more detail in the highlights and shadows.

Enjoy the high standards of aerial photography with larger 2.4m pixels and an aperture ratio of f/1.7. With more light available, your images will appear true-to-life even in low-light situations.

With stunning 4K HDR video and 48MP RAW photos, you can take your content to the next level.

Even as you zoom in, marvel at the rich clarity of each image. Slow things down as the world gets busier with dramatic slow-motion video in 1080p/120fps. D-Cinelike Color mode gives you more visual information, giving you more color options and editing flexibility.

DIGITAL ZOOM
With 4x digital zoom, you can get closer to your subject. This allows you to photograph scenes without disturbing them and scout shots from a distance.

VERTICAL PORTRAIT SHOOTING
Switch between landscape and portrait mode with a simple touch. Because the camera gimbal has been redesigned to rotate 90 degrees, you won't have to sacrifice image quality. True vertical shooting produces detailed images that are immediately ready for social media.

FLIGHT SAFETY | OBSTACLE AVOIDANCE AND APAS 4.0
As you navigate the skies, fly with confidence. The DJI Mini 3 Pro has been upgraded to include active obstacle detection as well as stable video transmission. The DJI Mini 3 Pro is the safest Mini by DJI. It has forward, backward, and downward dual-vision sensors, as well as an entirely new aircraft design, which provides a wider sensing range and increased safety. In real time, Advanced Pilot Assistance Systems (APAS 4.0) detects objects in the aircraft's flight path. This enables the DJI Mini 3 Pro to avoid obstacles in even the most challenging environments.

INTELLIGENT FLIGHT MODES | FOCUSTRACK
For the first time on a Mini by DJI, you now have with FocusTrack. With this feature, you can come up with new ways to follow your subject. Three powerful storytelling tools are included in the suite: ActiveTrack 4.0, Spotlight 2.0, and Point of Interest 3.0.

While flying the DJI Mini 3 around or taking close-up shots, Spotlight 2.0 keeps the subject in the center of the frame. To shoot from a safe distance, you can also use the digital zoom feature.

ActiveTrack 4.0 is a feature that assists you in avoiding obstacles while tracking the subject. Even if you lose the subject temporarily due to an obstacle, you can quickly recover it during flight and keep it in frame.

Point of Interest 3.0 will fly the drone in a perfect circle at whatever radius and altitude you specify while keeping the subject in the center of the frame. You can also use the DJI Fly App to change the rotation direction while in flight at any time.

INTELLIGENT FLIGHT MODES | MASTERSHOTS
For any beginner aerial photographer, MasterShots is a game-changer. Simply pick your subject, and Mini 3 Pro will perform a series of professional maneuvers, culminating in a short cinematic video. There's a reason why this is such a popular game.

HYPERLAPSE & PANORAMA
Create a striking hyperlapse or timelapse video with just a few taps to speed up time. Add drama to your videos by capturing moving traffic or rolling clouds. Wide-angle, 180°, Vertical, and Sphere panorama shots capture the vastness of any landscape.

FLY LONGER
You can capture and explore more of your surroundings with a flight time of up to 34 minutes. The DJI Mini 3 Pro Intelligent Flight Battery is ultra-lightweight and powerful enough to meet your aerial photography needs.

If you're the type who likes to push each flight to its limit, the DJI Mini 3 got you covered. For up to 47 minutes of worry-free exploration, upgrade to the Intelligent Flight Battery Plus.

FLY FURTHER
The Mini 3 Pro takes it a step further than the DJI Mini 2, featuring a flagship-level DJI O3 video transmission system, similar to the DJI Mavic 3 and the DJI FPV. It can transmit a 1080p/30fps live feed up to 12 kilometers away. Whether it's for city views or outdoor adventures, always fly with a crisp and reliable live feed.

Smooth flying and responsive control are possible with the DJI RC-N1 Remote Controller or the new DJI RC. Both controllers have an 18 Mbps maximum video bitrate and a 120 millisecond latency.